Are you looking for an amazing Cardio based workout? If so the TurboFire 90 Day Cardio Conditioning workout maybe the right answer for you. Not only will this workout help you lose weight, but it will also help you get the body you desire more with its intense full body routine.
How the TurboFire Workout Works?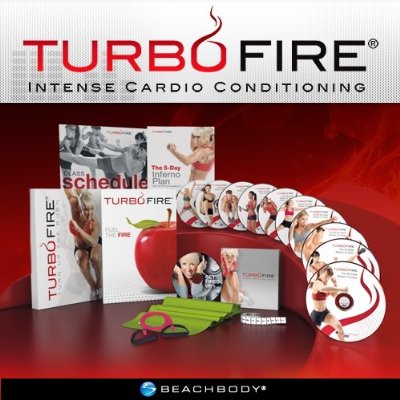 How the TurboFire workout works is it combines high energy exercise bursts with quick breaks. This helps the body lose weight quicker while at the same time builds the muscles in the places that you want. Best of all it is focused on a all body type of aerobic plan so that means that you are not focusing on one muscle group, instead you are building the body evenly so the body will develop the best way possible.
TurboFire Workout Includes a Diet
Combined with this workout routine the TurboFire workout includes daily eating plans so that the body can get the most out of the workout. This will help boost weight loss and increase energy so that one can workout as well. This diet has been professionally analyzed by dietitians and so is not one of the quick weight loss plans that risks diet health at the same time. This is more so a healthy approach that anyone can adapt to there present lifestyle to get them back on track.
Video Above shows the TurboFire Workout in action. TurboFire is a intense new cardio conditioning program from fitness innovator Chalene Johnson.
Whats Included in The TurboFire 90 Day Cardio Workout Video Set
Get Fired Up:Chalene guides you through the program to help you get the best results for starting off.
Fire 30 Class – Stretch 10 Class: Throw smoking hot hooks ( punches ) and make big leaps to the bass of "Give Up the Funk"
HIIT 15 Class – Stretch 10 Class: Dial it up for your first High Intensity Interval Training (HIIT) class
Fire 55 EZ Class – Stretch 10 Class: Don't let this fool you, you'll be sweating to "Dazzey Dukes"
Core 20 Class – Stretch 40 Class – Stretch 10 Class: Chalene's most popular class targets your tummy with moves that deliver incredible abs
Fire 45 Class – Stretch 10 Class: Kick, dance, and punch your way into shape to the beat of "Wiggle It". Almost like a martial arts workout.
HIIT 20 Class – Stretch 10 Class: "Turn This Mother Out" with 7 sizzling Fire Drills in 20 minutes
Fire 45 EZ Class – Stretch 10 Class: Take a break from the Fire Drills but not the fire as you sweat to "In the Ayer"
HIIT 25 Class – Stretch 10 Class: More 25 minutes of your most intense Fire Drills yet with Chalene
Sculpt 30 Class – Tone 30 Class: Help develop shapely muscles with Chalene's challenging resistance classes
Stretch 40 Class – Stretch 10 Class: Help increase your flexibility and lengthen your muscles for a longer more lean look
Chalene Johnson the creator of this intense workout claims that you can get leaner with these exercises and that they can help you burn up to 9 times more fat and calories than regular cardio does. Not only that she claims that the 20 categories of music remixes, TurboFire will help pick you up and push you past your limits.
Recent Comments on Amazon about TurboFire say –
I'm a Turbo junkie but when I saw the infomercial for Turbo Fire, I was a bit intimidated. I blasted out my knee when I was a kid and still feel the effects at times. I was able to follow (and for some moves, make my own) modifications with the original Turbo Jam. Even so, I only bought a single Fire class (55 EZ) on Ebay just to give it a try. My initial reaction was pretty much the same as when I first started TJ, I tossed it to the side and thought that it just wasn't for me. But I gave it another chance, and another, and another and that single class turned out to be nothing more than a tease. I broke down and bought the whole set.
And..
"Turbo Fire is by far the best workout DVD(s) I have ever done. I have done everything from Jillian Michael to Yoga to kickboxing and nothing keeps my attention like this. It is so much fun and upbeat that you barely notice your working out. The way the program was filmed makes you feel like you're right in the middle of a class with tons of other people. Chalene is motivating and so full of energy! It is an intense workout for the most part so if you are not in any kind of shape I would recommend starting with other DVD's before purchasing this one..but you can always modify or go at your own "pace" while doing the program with the pre-program preparation she gives you. I can honestly say this is the best money I have spent!"
For more on this complete workout package from Chalene Johnson including customer comments, feedback and how to order yourself a copy, then go to the  TurboFire order page.